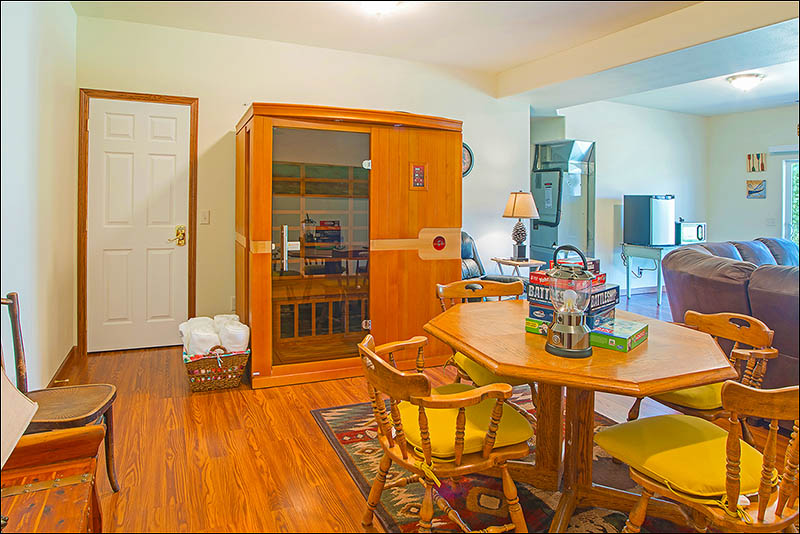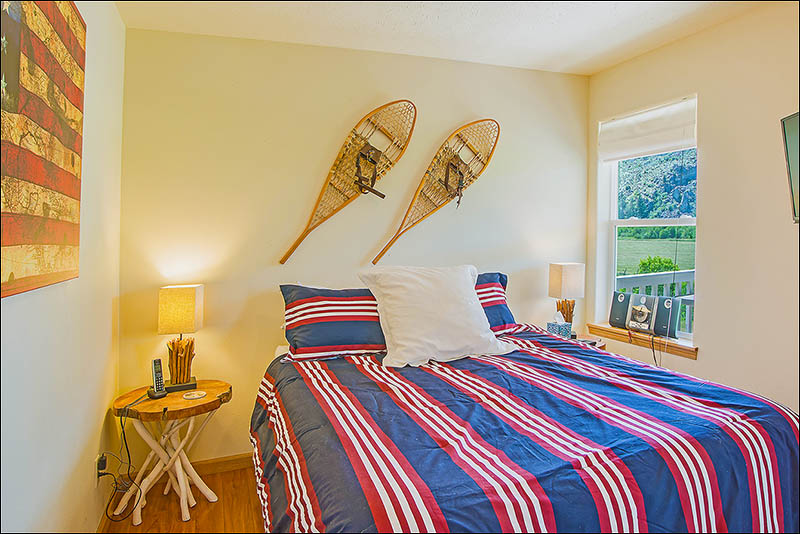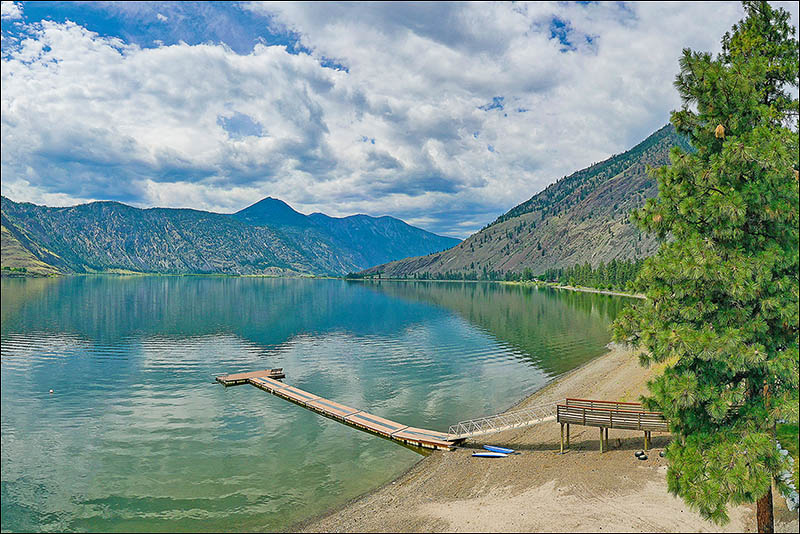 Loomis Lookout
Nestled in the rolling hills of the East Cascades Mountains in the Northern Okanogan Region, Loomis Lookout is the home base for your next adventure! Whether you are out on the water or hiking the many trails in the area, the Lookout provides rest and relaxation with a glorious view!
With its three bedrooms and two baths on eight acres of land, there is plenty of room for large families or a gathering of friends.
The home is beautifully furnished with oversized leather couches and rustic décor, as well as outfitted with modern conveniences including a dishwasher, washer/dryer, and a tank-less water heater. You'll never have to take a cold shower while you're here.
The kitchen has windows and a sliding glass door that provides access to open space and a fantastic territorial view. With all the comforts of home, this full kitchen is ready for family meals, around the family-style, six-person dinner table.
After a long hike, you can relax in the sauna. Sip local wine in front of the fire in the living room while the kids play in the den below. With three outdoor patios, you can pick the ideal spot to watch the deer roam the fields and the sunset over the hills. At night, you are sure to see the stars.
Cold in the winters, the fireplace is inviting. Warm in the summer, the AC will keep you cool. Board games, puzzles and DVR television will keep everyone occupied on rainy days.
About Loomis
Located in the Northern Okanogan Region, Loomis was the hub for ranchers and miners. Today, Loomis is popular for its wildlife, hiking, hunting, ghost towns and ATVing.
Loomis is a vibrant recreational area. Drive the Many Lakes Loop to tour the picturesque setting of the foothills of the Eastern Cascade Mountain. Hike along the Many Lakes Recreational Area to immerse yourself in its untouched beauty. Explore the Sinlahekin Fish & Wildlife Preserve to experience Washington State's most diverse butterfly population.
Loomis offers fun for all seasons— water skiing, fishing, bird watching, hunting, snowmobiling, cross-country skiing and more!
About the Okanogan Valley
Outdoor sports abound in the Okanogan Valley. Whether you're an avid fisherman, golfer, rock climber or ATV enthusiast, you'll find an adventure perfectly suited to your desires.
Okanogan is rich in history! The Okanogan Region was home to numerous indigenous peoples and was one of the last areas in Washington State to be settled. Prospectors generated more interest in the area, which spurred agriculture, forestry, and, finally, tourism.
Today—the North Okanogan Region is the hidden gem of Washington State.
The Outlook Okanogan Promise
Outlook Okanogan is the only full-stack vacation rental management company in the area. We vow to make booking with us simple and exciting. We know that booking a rental property home for your vacation can be unfamiliar territory for some, while others know their way around it. Because of this, we ensure that each of our properties is up to our highest quality standards.
We do our absolute best to provide excellent support to our guests!
We are available to assist you every day of the year if you have any questions or concerns before, during or after your visit. We have onsite property management available 24/7 for anything concerning that may arise.
PROPERTY MANAGER:Rentals 30 days or longer are managed by Stonemark, Inc. doing business as Prospera.VIP property management.
Starry Starry Nights
Propane Barbecue
Dishwasher
TV, Flat Screen
Satellite TV
High Speed Wireless Internet
Freshwater Fishing
Name: Loomis Lookout
Status: Active
Rating:

Type: House
Country: United States
State: Washington State
Destination: Okanogan Valley
Location: Loomis
Setting: Mountain Home
View: Partial Mountain View
Internet: Yes
Sq. Ft: 2,088
Floors: 2
Entrance Floor: 2
Bedrooms: 3
Beds: QQQTT
Bunks: Yes
Baths: 2
Normal Occupancy: 6
Sleeps: 8
Max Occupancy: 10
Parking: 4
Pets: None
Checkin: 05:00 pm or later
Checkout: 11:00 am or earlier
Website: LoomisLookout.com
Manager: Prospera VIP
BED CODES: K=King, Q=Queen, F=Full, T=Twin, C=Futon Couch, M=Mattress, A=Air Mattress, L=Sleeper, S=Sofa, U=Trundle Bed, D=Day Bed
A wonderfully hidden spot in North Central Washington State. Loomis is an old-fashioned town with our comfy, cozy home away from home. You get the great outdoors, fresh air, and peace and quiet.
Property
Air Conditioning Unit
Balcony Unit
Full Bathroom Unit
2 Queen Beds Unit
Queen Bed Unit
Bed Lights Unit
Lamps Unit
Chairs Unit
Child Friendly Unit
Deck Unit
Art décor Unit
Desk Table Unit
Dresser Unit
End table in between beds Unit
Electric Fireplace Unit
Outdoor Furniture Unit
Heating & Air Conditioning Unit
Forced Air Electric Heating Unit
Full Kitchen Unit
Lamp Unit
Landscaped Unit
Patio Lounge Chairs Unit
Nightstand Unit
Two Car Parking Unit
Boat Trailer Parking Unit
Multiple Car Parking Unit
Porch Swing Unit
Small Desk Unit
Small Dresser Unit
Little Table Unit
No Smoking Unit
Table Unit
Telephone & Free Nation Wide LD Unit
No Pets Allowed
Long Term Rentals Welcome Unit
Handicapped Access, None Unit
Minimum Rental Age is 25 Unit
Ceiling Lamp Unit
Hairdryer Unit
Setting
Mountain Area Area
View
Starry Starry Nights Unit
Peekaboo Lake View Unit
Full Territorial View Unit
Kitchen
Electric Stove Unit
Gas/Charcoal Barbecue (Charcoal Not Provided) Unit
Toaster Unit
Spices Unit
Pots & Pans Unit
Cooking Range Unit
Refrigerator Unit
Refrigerator - Freezer Unit
Plateware Unit
Oven Unit
Paper Towels Unit
Microwave Oven Unit
Icemaker Unit
Glassware Unit
Flatware Unit
Dishwasher Unit
Coffeemaker Unit
Cooking Wares Unit
Crock Pot Unit
Blender Unit
Propane Barbecue Unit
Bath
Basic Soaps Unit
Toilet Paper Unit
Cleaning
Vacuum Unit
Daily Cleaning Available Unit
Cleaning at Departure Unit
Clothes Dryer Unit
Clothes Washer Unit
Sink Disposal Unit
Iron & Board Unit
All Linens Provided Unit
Convenience
Newspapers & Magazines Neighborhood
Fresh Flowers Available Area, 10 to 15 Miles
Family Friendly Unit
Catholic Church Area, 10 to 15 Miles
Evangelical Church Area
LDS Church Area
Protestant Church Neighborhood
Unreliable Mobile Phone Coverage Unit
Self Service Accommodations Unit
Free Parking Unit
Pharmacy Area, 10 to 15 Miles
Post Office Neighborhood, 1 Mile
Services
Coffee Shop Neighborhood, 1 Mile
Hair Salon Area, 10 to 15 Miles
Spa Area, 26 to 30 Miles
Onsite Spa & Salon Area
Convenience Store Neighborhood, 1 Mile
Grocery Store Area, 10 to 15 Miles
High Schools in Area Area, 10 to 15 Miles
Shops Area, 10 to 15 Miles
24 Hour Assistance Telephone
Banking Area
Small Plane Airport Area
ATM Area
24 hour Front Desk Telephone
Massage Area, 10 to 15 Miles
Medical Clinic Area, 10 to 15 Miles
Hospital Area, 10 to 15 Miles
Entertainment
Patio Unit
Bingo Gambling Area, 31 to 40 Miles
Casino Gambling Area, 31 to 40 Miles
Board Games Unit
DVD Player Unit
DVD Players Unit
Card Table Unit
Attractions Area
Video Rentals Area, 10 to 15 Miles
TV, Flat Screen Unit
Satellite TV Unit
Television Unit
DVR TV Recorder Unit
Televisions Unit
Activity
Snow Shoeing Area
Sauna Unit
Public Pool Outdoor Area, 10 to 15 Miles
Biking Area
Antique Stores Area, 16 to 20 Miles
Birding Neighborhood
ATV Rentals Area, 10 to 15 Miles
Big Game Hunting Neighborhood
Hiking Trails Area
Bird Hunting Area
Business
High Speed Wireless Internet Unit
Answering Machine Unit
Telephone Unit
Sports
Lake Swimming Neighborhood, 1 Mile
Mountain Biking Trails Area
River Swimming Area, 10 to 15 Miles
Snowmobiling Terrain Area, 10 to 15 Miles
Snowmobile Trails Area
Freshwater Fishing Area, 2 Miles
Laundromat Area, 10 to 15 Miles
Golf Courses Area, 10 to 15 Miles
Hiking Area
Attraction
Orchards Area, 5 Miles
Museums Area, 26 to 30 Miles
300+ Days of Sunshine Area
Movie Theatre Area, 26 to 30 Miles
Public Parks Area, 10 to 15 Miles
Wildlife Viewing Unit
Historical Sites Area, 10 to 15 Miles
Churches Area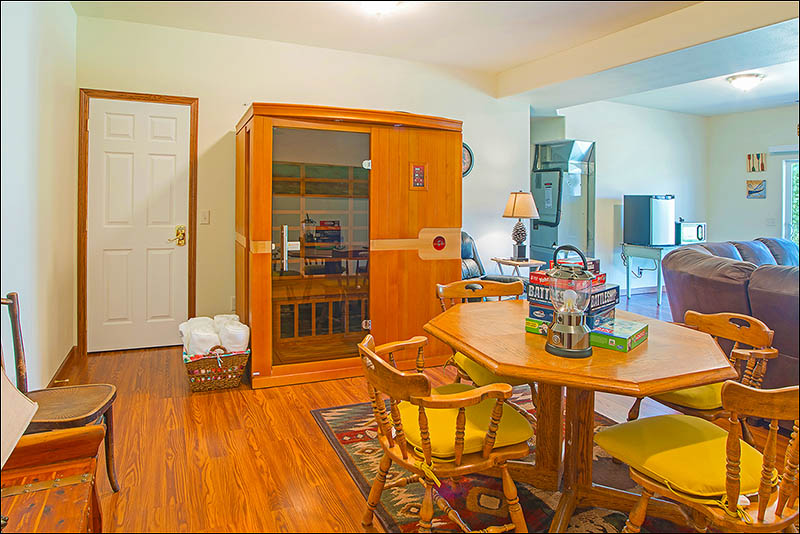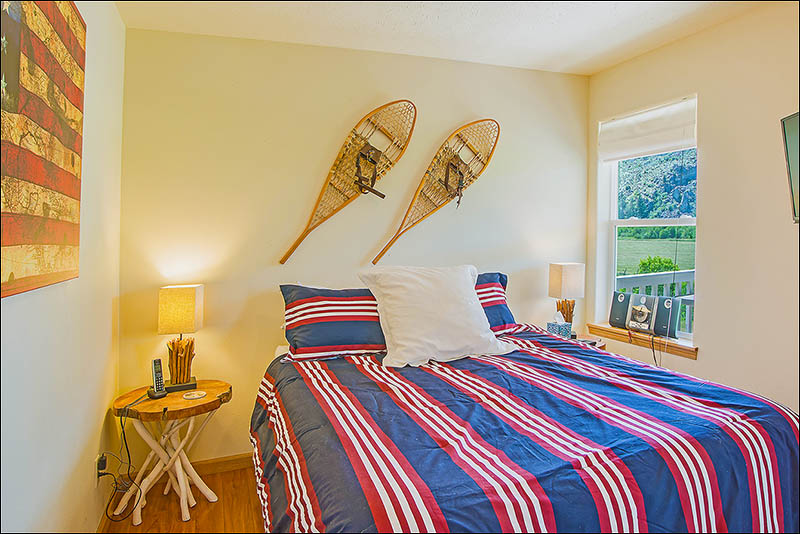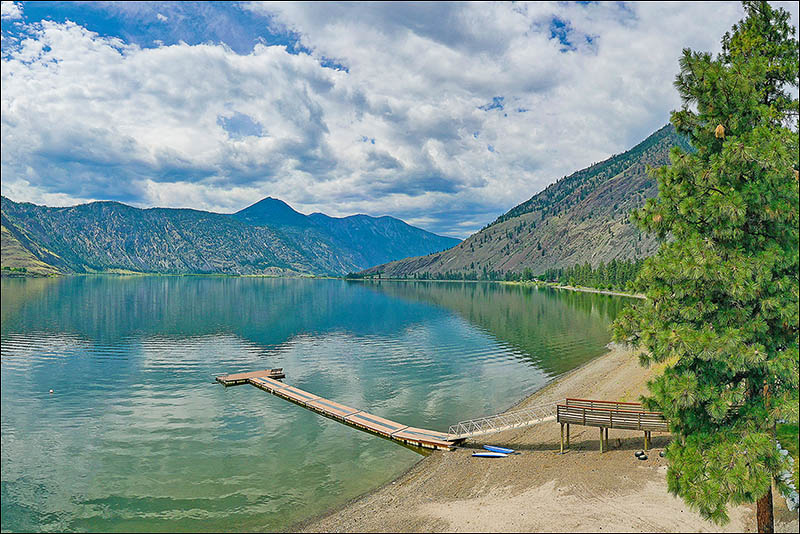 New property - Be one of the first to leave a review
It's a fine place to stay. You are bound to love it. We'll make your stay comfortable and affordable. Then stop back here to tell us what you think.
Everything expected plus some!
Definitely a 5 out of 5 stars property!
BEAUTIFUL SURROUNDINGS
Such a beautiful home and surroundings.
Email Manager
Already a member? Click to login
Not a member? Request info below
Say you saw Loomis Lookout House (1269) on LoomisLookout.com